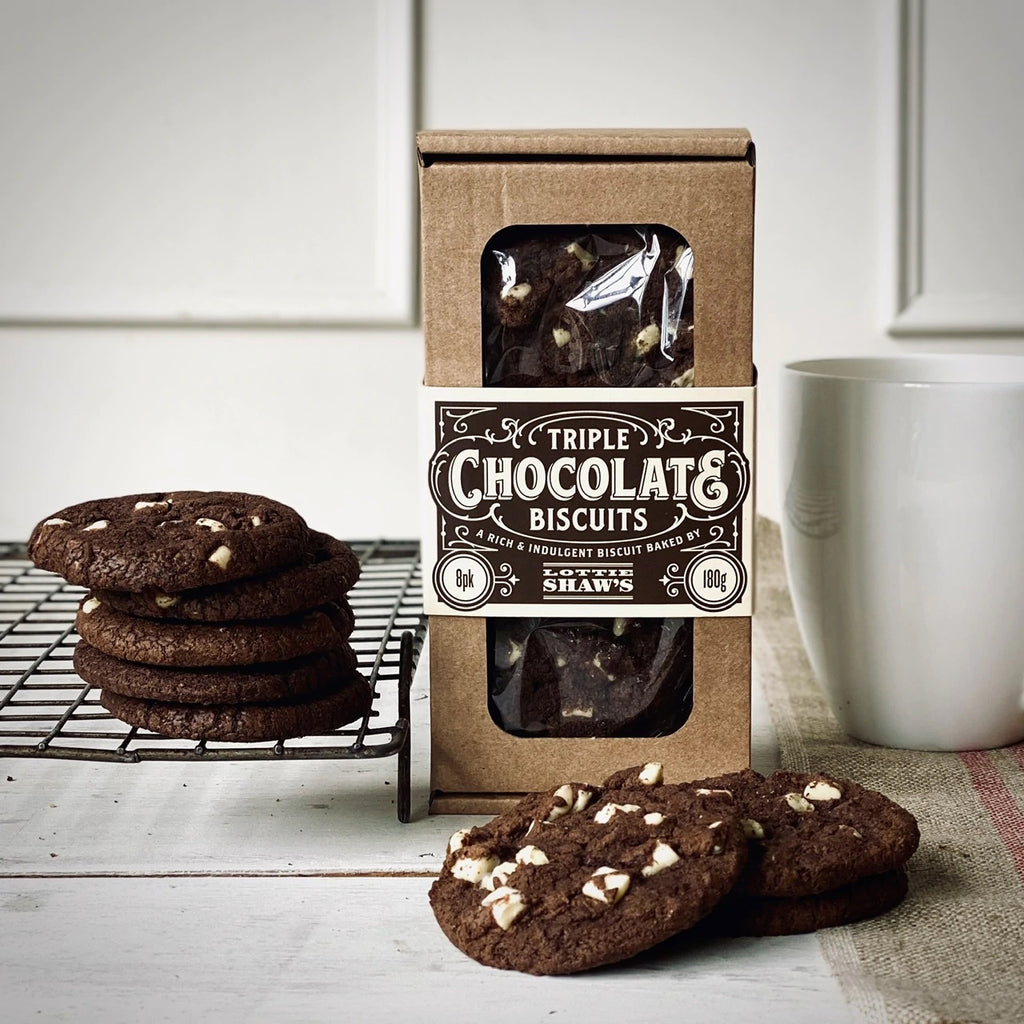 Yes you heard it Triple Chocolate Biscuits and they are to die for!
A seriously good occasion requires a seriously good baked treat, and we think there's no better time to enjoy a little something special. So why not include this in a gift box and keep your fingers crossed that there is some left when you visit.
Baked using the traditional "scratch baked" technique, this rich Triple Chocolate biscuit contains a dark chocolate couverture and is packed with Belgian white and dark chocolate chips to create a decadent treat.
Baked using free range eggs.
The box is 100% recyclable and contains 2 packs of 4 biscuits to keep them fresh. They also have 6 months shelf life from baking.
We have chosen Lottie Shaws is an award-winning Yorkshire based bakery inspired by 3 generations of bakers, producing amazing baked products & Treats to this day, but don't just take our word for it!
Suitable for vegetarians.
Allergens: See Bold Font. Nuts are handled in our bakery
Ingredients: Wheat Flour (Wheat)(fortified with Calcium carbonate, Iron, Niacin and Thiamine),White Chocolate Chunks,( Sugar (53.0%), Whole Milk Powder (24%)(Contains Milk),Cocoa Butter(21.0%), Skimmed Milk Powder(1.5%)(contains Milk),Emulsifier; Soya lecithin (1%) (Soya),Natural Vanilla Flavouring. (Dark Chocolate Couverture (Sugar (44.77%), Cocoa Mass (42.78%), Cocoa Butter (11.94%), Soya Lecithin (0.50%) (Soya), Natural Vanilla Flavouring (0.01%).Margarine (Vegetable Oil (palm and rapeseed in various proportions (RSPO SOURCED), Water, Salt, Emulsifier (Polyglycerol esters of fatty acids), Colours (Curcumin, Annatto), Flavouring. Demerara Sugar, Free Range Pasteurised Egg, Butter (contains Milk), Cocoa Powder (cocoa powder, Potassium Carbonate), Raising Agent; Sodium Bicarbonate, Salt.